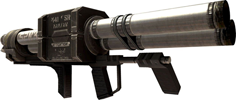 Halo 3 Rocket Launcher
Also referred to as the "M41 SSR MAV/AW" and "Rocket Lawn Chair".
Oddly, there is no dimensional information currently availible for this weapon, but it MAY be similar to the 134.9cm (53.125 inch) length of the Rocket Launcher used in Halo 1 although this is clearly not the same rocket launcher.
Further Storyline information is availible here: Halopedia Information Page (external link)
See how members of the 405th Forums approached the creation of their own Rocket Launchers, on their own WIP's (still needed), and how some of them looked when completed, when they were shown off.
Blueprints are not availible on the 405th Forums.
Pep files (.pdo's) may be availible: Pepakura_File_Index#UNSC
Downloads
Edit
A Reference Pack is availible (hosted by vrogy): [Rocket Launcher Reference Pack]
A Picture Pack is availible (hosted by Deadguy): [Rocket Launcher] 8mb -- 06/08/08

To my knowledge, no 3d models (other than pep) are currently available for this item. If you are aware of any, please add a link to them from this page.